For Trade Republic customers we offer the alternative of PDF import, as Trade Republic does not offer an open banking interface yet.
How to import your portfolio via PDF import into getquin you will learn in this step by step guide:
1. Download your securities statements as PDF files in the Trade Republic app.
In Trade Republic, select the transaction (buy or sell) and scroll to the bottom. There you will find the securities statement (either called Billing Execution or Invoice) for that transaction available for download. Repeat this process until all your security statements (purchases & sales) are downloaded.
Here you can find an example of the PDF document you need for the import:
Tip: The easiest way is to upload the files to your cloud. This way you can quickly access the files on your desktop.
Important: You must download the PDF for each transaction (purchase or sale) individually and then upload them all to the app at the same time.
2. Upload all your securities statements at once to getquin on your desktop
·       Log in to your account
·       Click "Connect / create portfolio" in the top right corner
·       Select option "Import PDF
·       Upload all your securities statements at once - simply drag & drop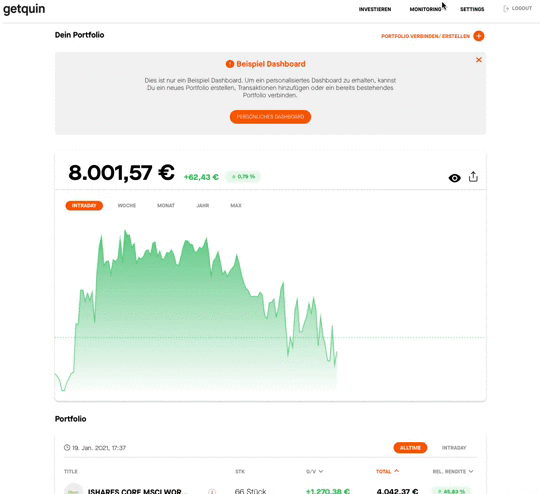 DONE! That's it - short and painless. This way you can easily track your portfolio in the getquin app.
What happens with my data?
The PDF import will be executed locally in your browser and your files will not be stored by us. Also your personal data will not be read out. Only transaction data (date, price, etc.) is read to create the performance dashboard for you. 100% anonymous!
If you have any questions or suggestions, please contact us at info@getquin.com and we will gladly take care of your request.